Accounts Receivable
Financing or Factoring
WHAT IS FACTORING?
Quite simply...invoice factoring turns your receivables into cash immediately!

1) You Invoice Your Client... 2) You Get Money From US, the Factor... 3) We collect from your client & Your Credit is NEVER an Issue

Factoring is the financial tool that speeds your cash flow and helps you to avoid the problems that slow paying customers can create for growing companies. Receivables Factoring provides fast and reliable funding to companies who need increased cash flow to expand their business. To do this, T .J. Stewart or it's assigns will purchase your credit-worthy accounts receivable at a small discount and fund you with immediate cash. There are virtually no limits on the size of account we can service; large or small.
You'll get cash the day your product is delivered instead of waiting to be paid at a future date.
Receivables factoring is not a loan. There is no debt repayment or compromise to your balance sheet. Invoice factoring allows you to use your accounts receivable to create cash for the growth needs of your company today.

A Way To Increase Sales & Profits
Is your company new and without a credit history? Are you undercapitalized, or a business with high seasonal demands? Have you decided to purchase the interest of a partner, add a new product line or simply expand existing operations? If the answer is yes to any of these questions, factoring may be the answer.
Cash tied up in accounts receivables can be a permanent problem for smaller companies. As your business grows, additional capital is frozen into accounts receivables. Most companies are growth-oriented, but sometimes so undercapitalized that a strain is placed on the entire firm. TJS is dedicated to helping you to free up your capital and use it in more profitable areas. You are now able to take advantage of profitable opportunities such as discounts and special rates

I hope this helps and I look forward to working with you.
Call Us Toll Free (866) 935-3100

l
Unlock Your Funds
Many Satisfied Customers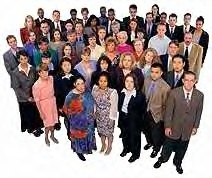 If you are looking for a note buyer, you've come to the right place
This Guy Has Your Answer

BENEFITS OF FACTORING
Fortunately, banks are not the only source of working capital. Money can be obtained quickly through accounts receivable factoring where an ongoing line of capital can easily be established.
Factoring is a way to increase sales. Most companies cannot afford to carry many customers who pay their invoices much beyond thirty days. Quite often, companies are forced to turn down some of their more profitable orders because of slow-paying customers. TJS can extend credit to these slower-paying accounts, thereby giving you increased sales.
Factoring also goes hand in hand with your financial planning, giving you some predictability in your month-to-month financial situation.
A Way To Increase Working Capital
In today's highly competitive economic environment, businesses are under constant pressure to tighten operational controls in order to maintain profitability. In many cases, small companies must devote more time to credit and cash flow concerns which shifts attention away from the principal objectives of increasing productivity, sales and marketing efforts.
.

To Get A Cash Bid
To start the process and receive a non-obligational cash quote, we need you to complete a Questionnaire on your note telling us about your note. After a review of this questionnaire we will provide you with a cash price for your note. Normally, we will have your cash quote back to you in about a day. If our cash price is acceptable, we will ask for additional documentation to underwrite the transaction and get you your cash. We are always be available to you by phone, fax, email or cell phone.
Click to email us with a question or to get started with a bid on your receivables
866-935-3100
Let Us Give You Your Cash Today!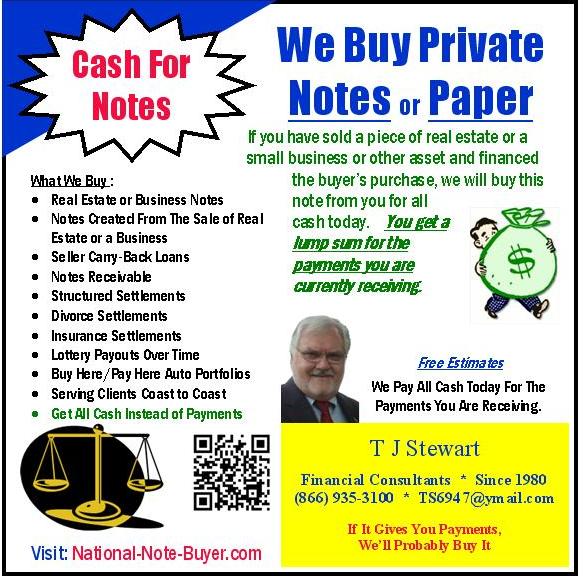 We have been active in the secondary private paper market since 1980, serving buyers and sellers coast to coast.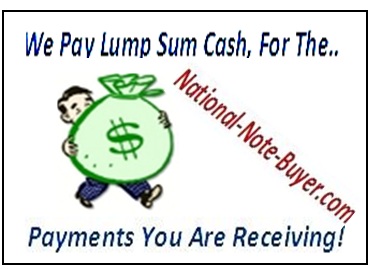 Additional Links To The Pages of This Website Below:
Home, About, Articles, Contact, Real Estate Notes, Business Notes, Auto Loan/Lease Portfolios, Accounts Receivable Factoring,